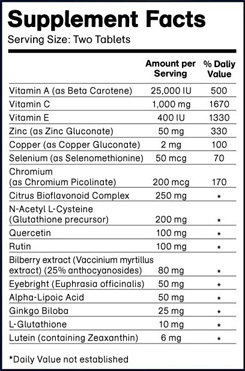 Eye vitamins supplement the nutrients your eyes need but don`t get because of lifestyle, diet or environment.
Many studies have been done and they confirm that eye nutrientsévitamins will protect against eye condistions such as glaucoma and age macular degeneration.
Eye vitamins will help:
The Rebuild Your Vision Ocu-Plus Formula was designed to improve vision and eye health, and help people with Macular Degeneration, Glaucoma, and Cataracts.  Click Here To Learn More.
Your eyes from being itchy *include omega 3 fish oil, and it can really help against dry eyes
It can help to improve your vision by letting you see better
It can help manage eye stress, and eye health in general
Also, it can help against the risk of cataracts
The specially eye formulated Ocu Plus actually has 17 eye vitamins, eye nutrients and eye minerals in one pill.
So what are those nutrients?


Alpha-Lipoic Acid – Bilberry – Bioflavonoids – Chromium – Copper Gluconate – Eyebright – Ginkgo Biloba – Glutathione – Lutein (containing Zeaxanthin) – N-Acetyl Cysteine (NAC) – Quercetin – Rutin – Selenium – Vitamin A – Vitamin C – Vitamin E – Zinc.
These vitamins help support your eye health and your eyesight. And, they will help diminish the risk of age related eye diseases.
4 Responses to "Eye Vitamins What Do They Do For Your Eyes?"